ONLINE ART EXHIBITION
Due to the pandemic of the Coronavirus (covid-19) and since all public events were cancelled, I published online for free my new series of photographs: GHOSTS OF CHERNOBYL, on the 26th of April, date of Chernobyl's anniversary.
In order to encourage the diffusion of Art despite the cancellation of all artistic events, I conducted a free online conference about "The Art of Photography".
I also offered a free photograph contest on the topic of the pandemic: "From the lockdown to post lockdown Covid-19".
Thank you to the Ministry of Europe and Foreign Affairs, the Alliance Française and Intervisions for sponsoring this artistic initiative during this rough period.
All the photographs can be found in the Chernobyl gallery.
TEASER #1 Ghosts of Chernobyl
This online exhibition offers various photographs and videos of the Chernobyl exclusion zone. A full team and important risks have been taken to create this series.
TEASER #2 Covid-19 Online Exhibition
Due to the Coronavirus (covid-19) and all public events being cancelled, I am publishing online for free my new series of photographs: GHOSTS OF CHERNOBYL.
FREE PHOTO CONTEST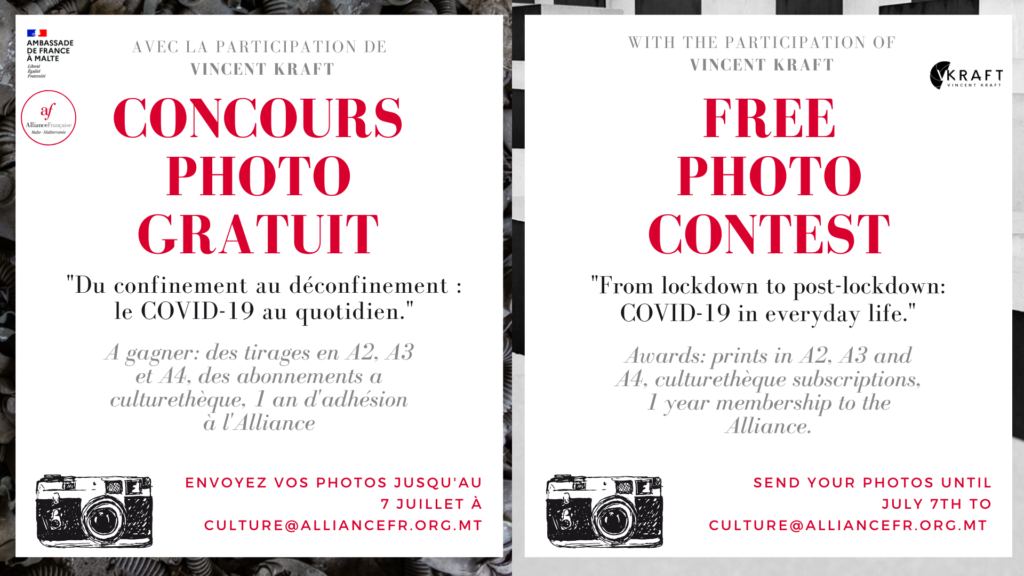 Free photo contest
Topic: "COVID-19 fro, lockdown to post lockdown"
Event: click here
Submission dates: 12th of June – 7th of July
3 photographs per person to send to this email address: culture@alliancefr.org.mt
Prices: Top 3 will have their photo printed and a chance to exhibit after the ceremony
Jury: Vincent Kraft, French Embassy in Malta, Alliance Française, Intervisions
Participants must be in Malta to attend the winners' ceremony
CONGRATULATIONS TO THE WINNERS!
1 – WINNER – Arnaud Fayet
The jury loved to see what can become an historical photo of Valletta empty at this time of the day. The perspective and the emptiness really reflect the covid-19 period.
2- RUNNER UP – Stéphane Geslin & Martina Stromkova
Being on lockdown for such a long period also means more time for the family and here is a great example of a casual photograph of what could be the definition of life during difficult times.
3 – THIRD PLACE – Lionel Le Jeune
Not being able to go out and take pictures for a photographer is challenging. Here you have showed the jury a great example of creativity while remaining locked at home. This almost unreal composition could have easily been translated into the virus escaping its original core.
FREE ONLINE CONFERENCE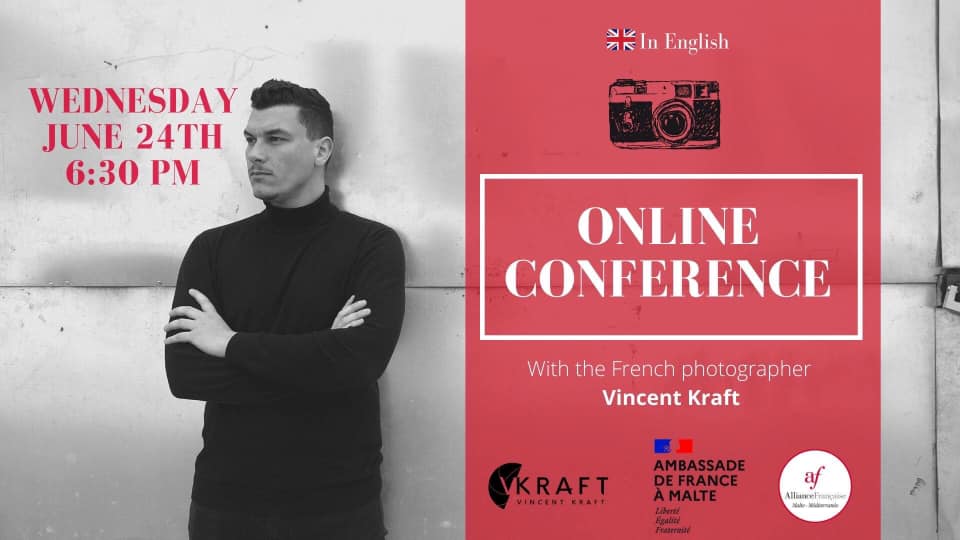 Free online conference about photography and art
Event: click here
Zoom link: click here
Wednesday the 24th of June
6:30 pm (1h)
Interactive photos / videos
Questions and answers
All levels (amateurs to professionals)
Discover all the different articles from Newspapers, Magazines, Websites and Social Media related to the photographic exhibitions and artistic projects of Vincent Kraft.
You would like to see more photographs captured from different angles with another distinctive point of view. Discover more series of photographs from all around the world.
You would like to see more exhibitions covering different subjects in various locations. Discover more international exhibitions.